Join us as our Elementary Schools of Fine Arts team up with the Elementary Campuses PTOs to bring you an informative presentation with a show! We invite you to participate in our informative brief meeting followed by our PK and KG performances! Information on the flyer!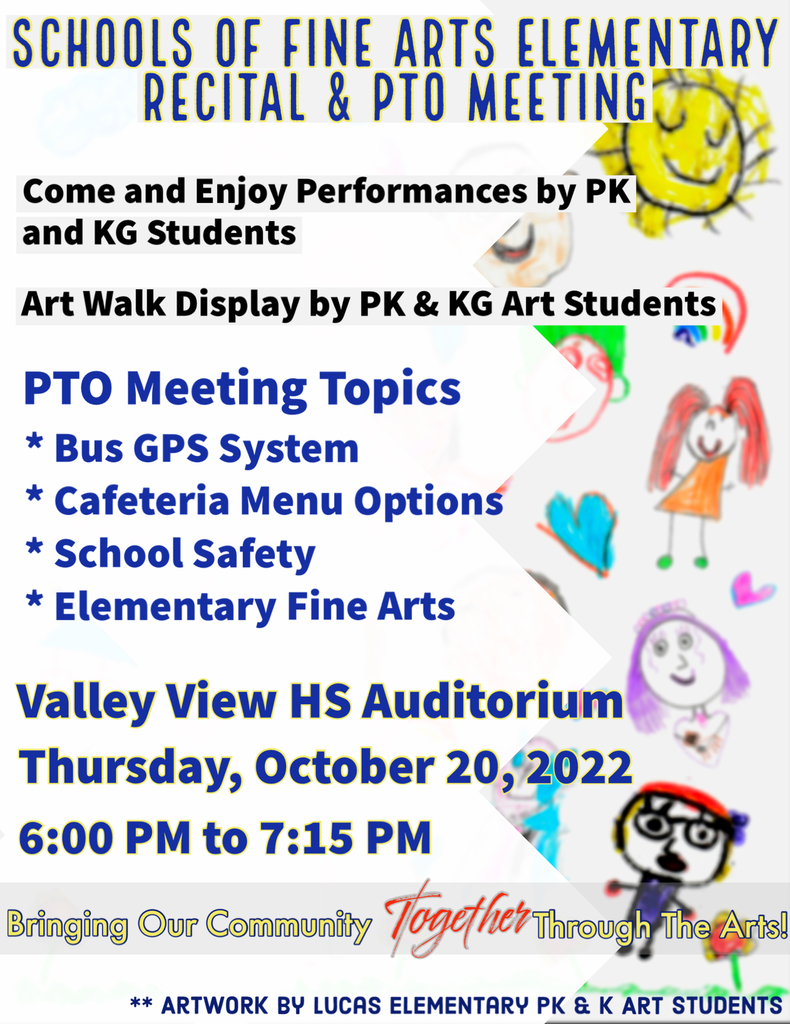 ​National Coaches Day! President Richard Nixon signs a proclamation declaring October 6 as National Coaches Day. It states: "Coaches are highly qualified teachers—in highly specialized fields. But more than that, they are friends and counselors who help instill in their players important attitudes that will serve them all their lives."

October is National Principals Month. Help Valley View ISD Celebrate by Thanking a principal!!!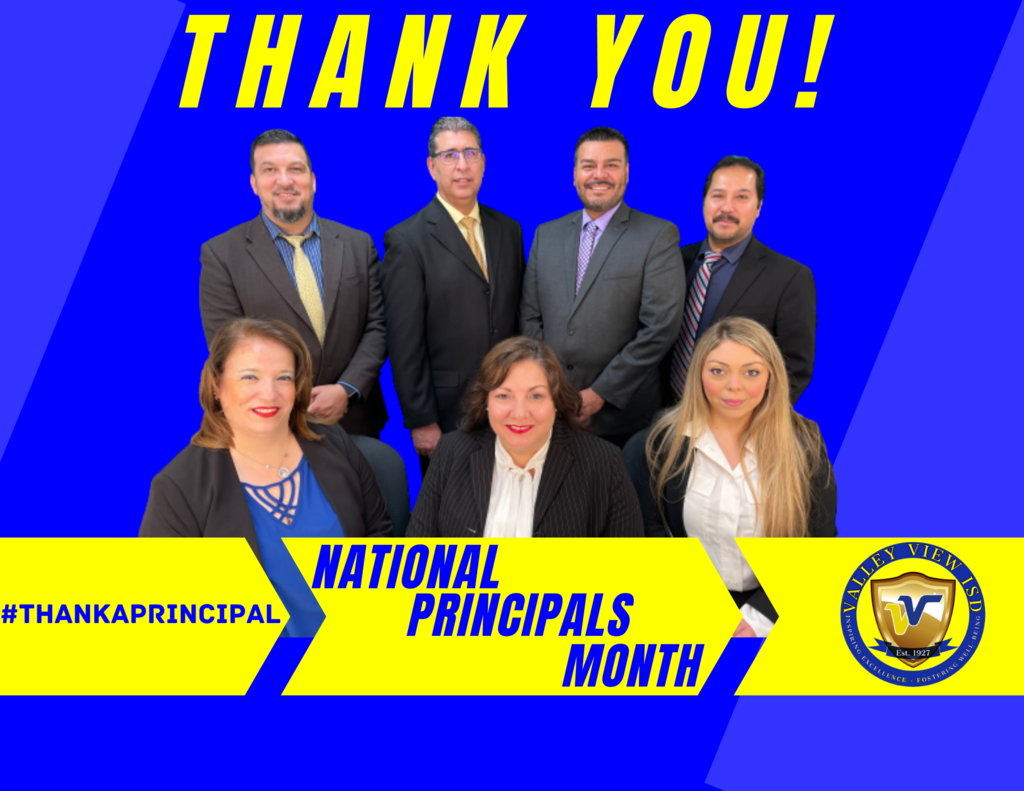 We want to thank our AWESOME custodians who keep our schools in great shape every day. Thank you for all you do!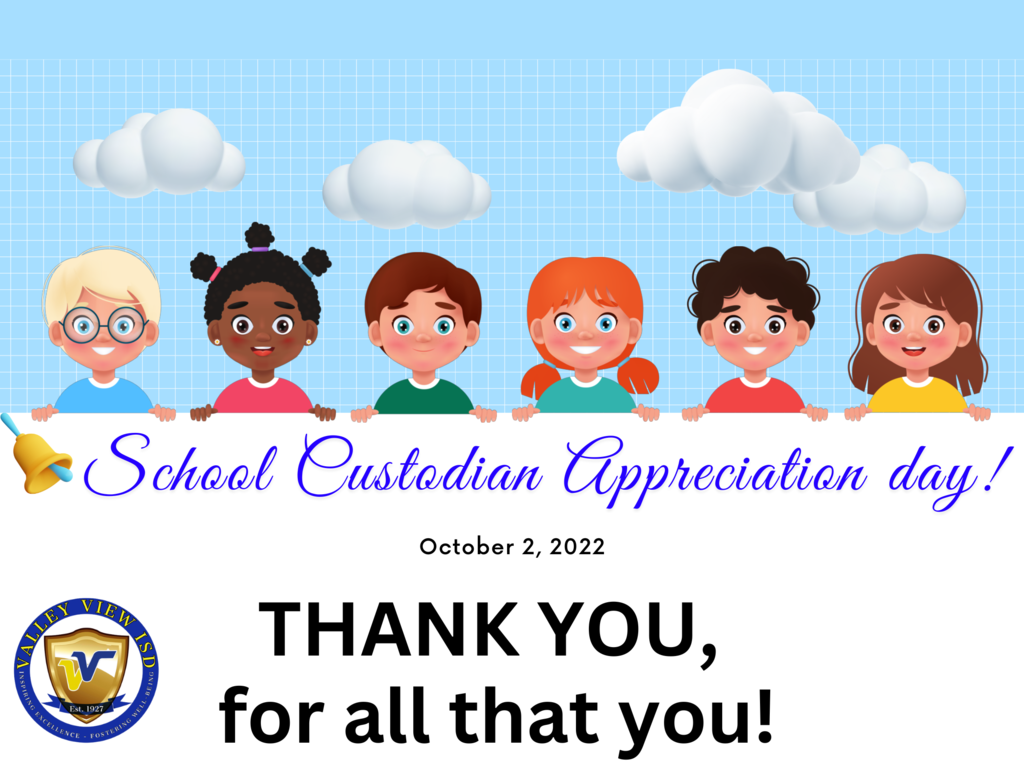 No importa dónde se encuentre en el mundo, la seguridad alimentaria es primordial en la industria de servicios alimentarios. Los descuidos comunes durante la manipulación de alimentos pueden resultar fácilmente en enfermedades transmitidas por los alimentos. Por esta razón, Valley View ISD está ofreciendo un curso de entrenamiento para credenciales apropiadas de manejo de alimentos. Para más información llame a Carmen Aguirre al 956-340-1050.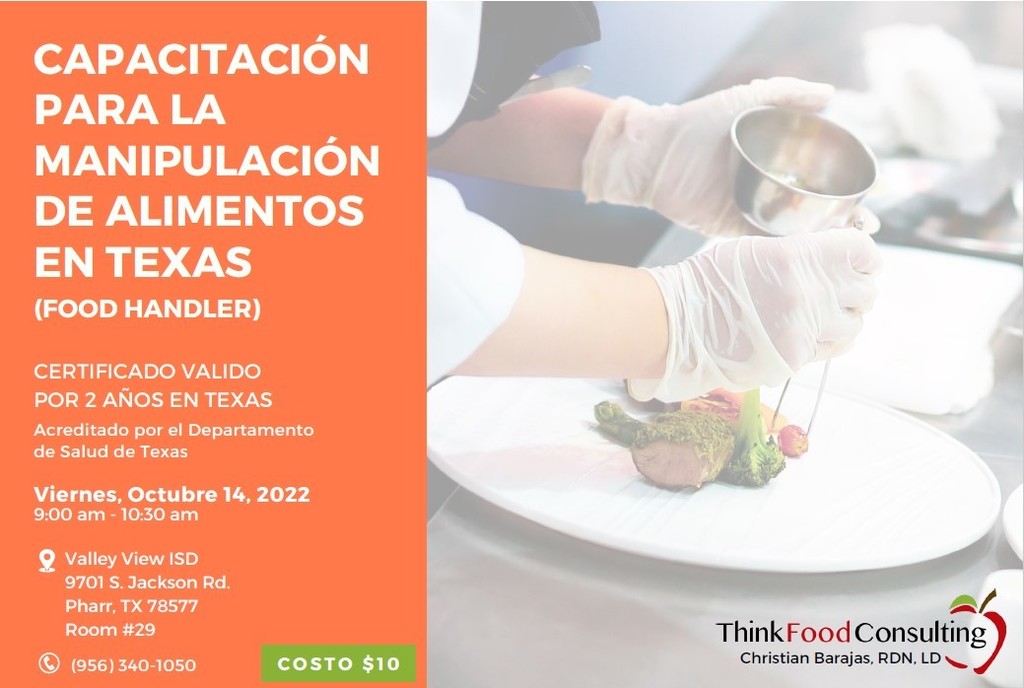 Valley View ISD would like to congratulate the Migrant Parent Advisory Council for 2022-2023. The goal of the Migrant Education Program is to ensure that all migratory students reach challenging academic standards and graduate with a high school diploma that prepares them for further learning and productive employment. Our Migrant Education parents met today to select their officers. The officers will collaborate with the District's Administration to ensure the program's success. Congratulations!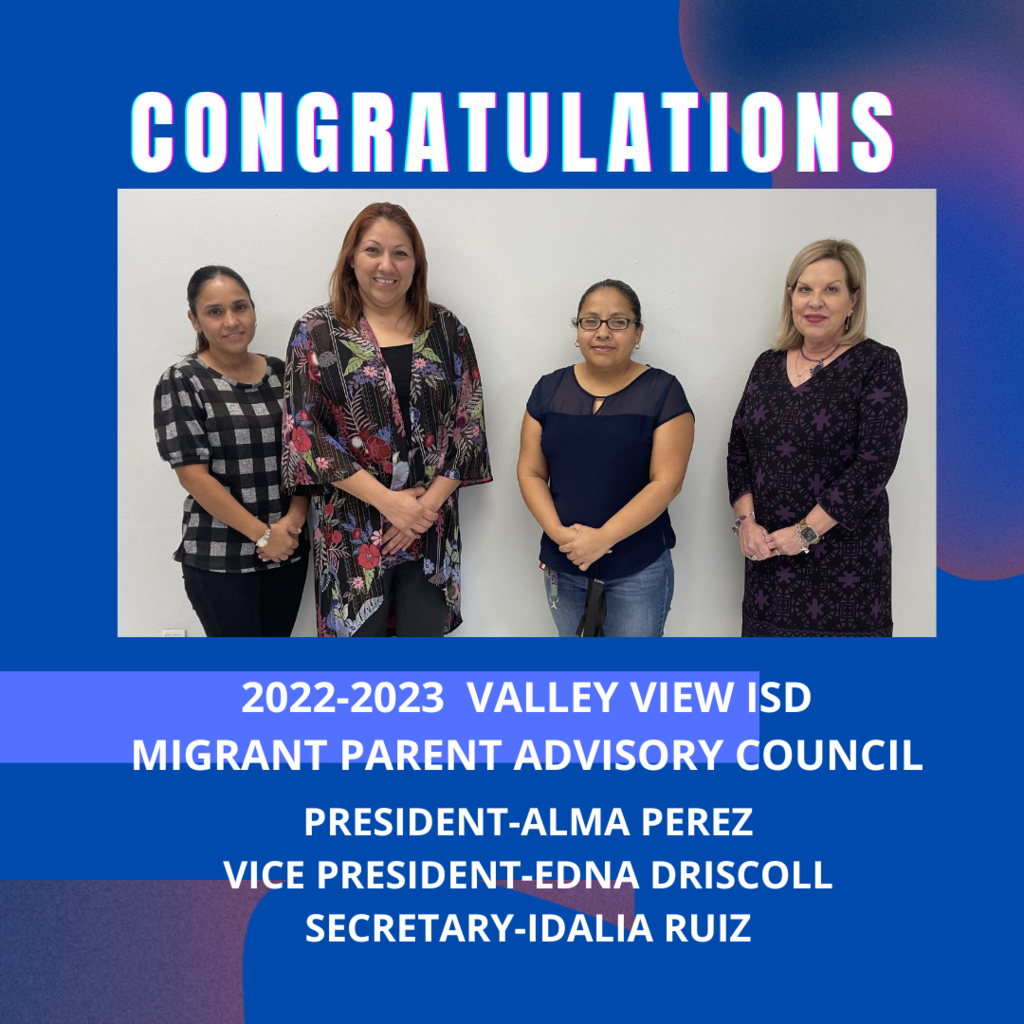 Free COVID-19 Vaccine Clinic on September 30, 2022, from 1 PM to 5 PM. It is open to everyone. 1st, 2nd, and 3rd doses for Pfizer, Moderna, and Johnson & Johnson. Flu vaccines are available.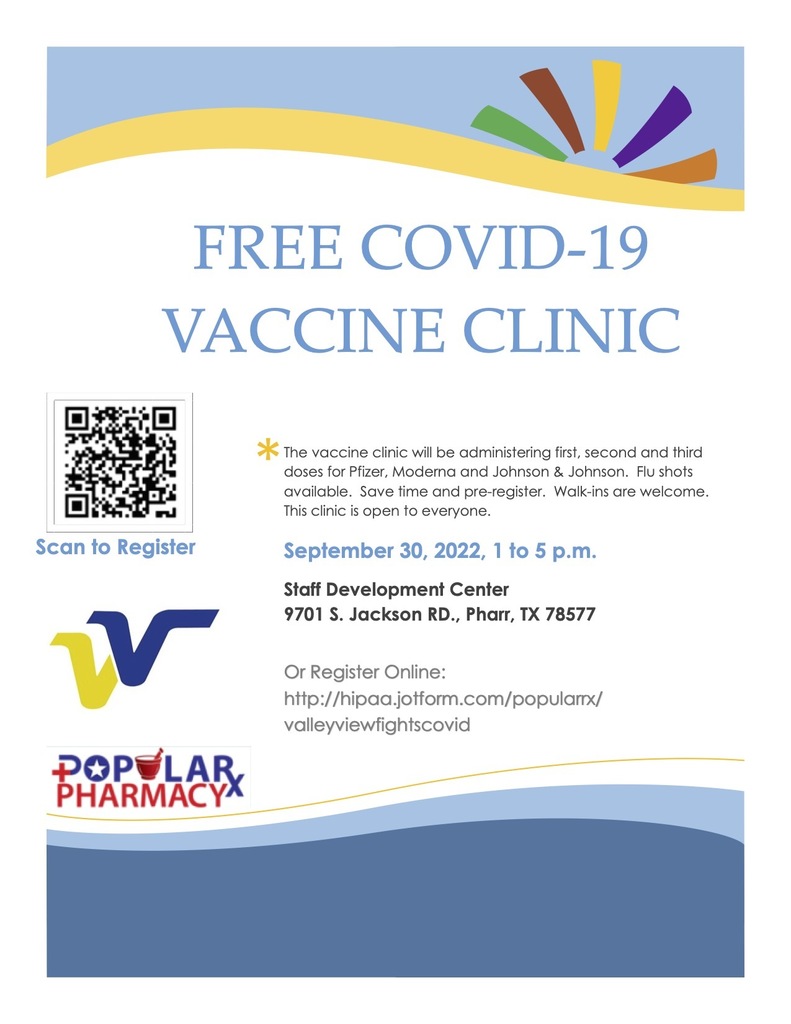 The Migrant Education Program invites you to our next PAC meeting on September 28, 2022, from 2:00-3:00 in the Parent Training Room #29. We look forward to seeing you.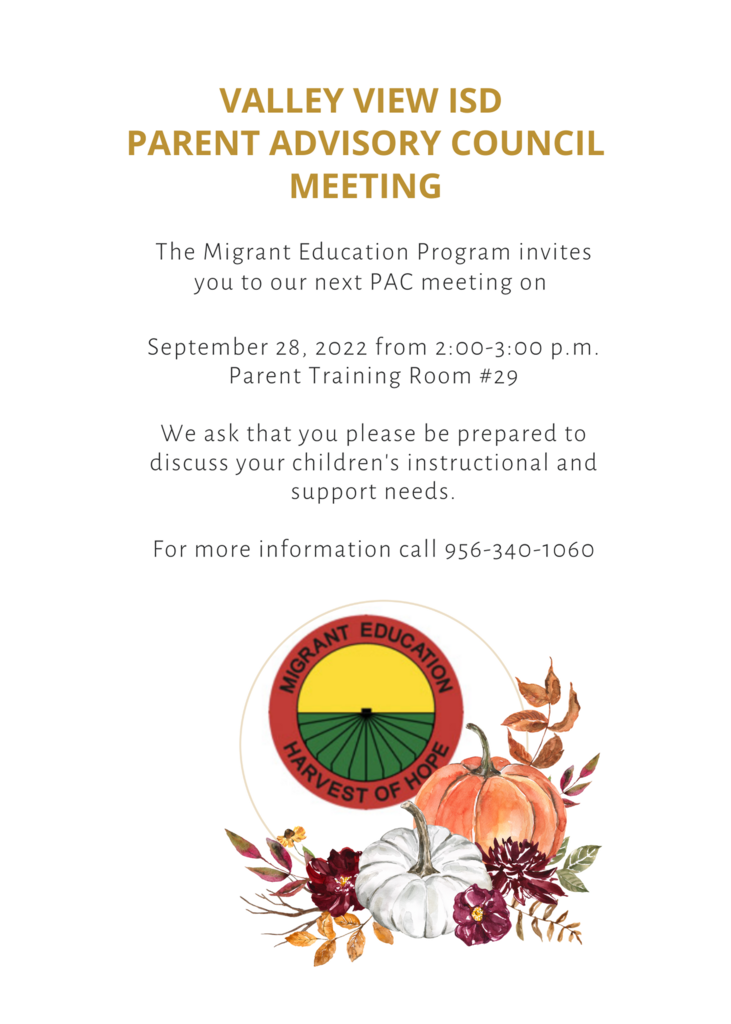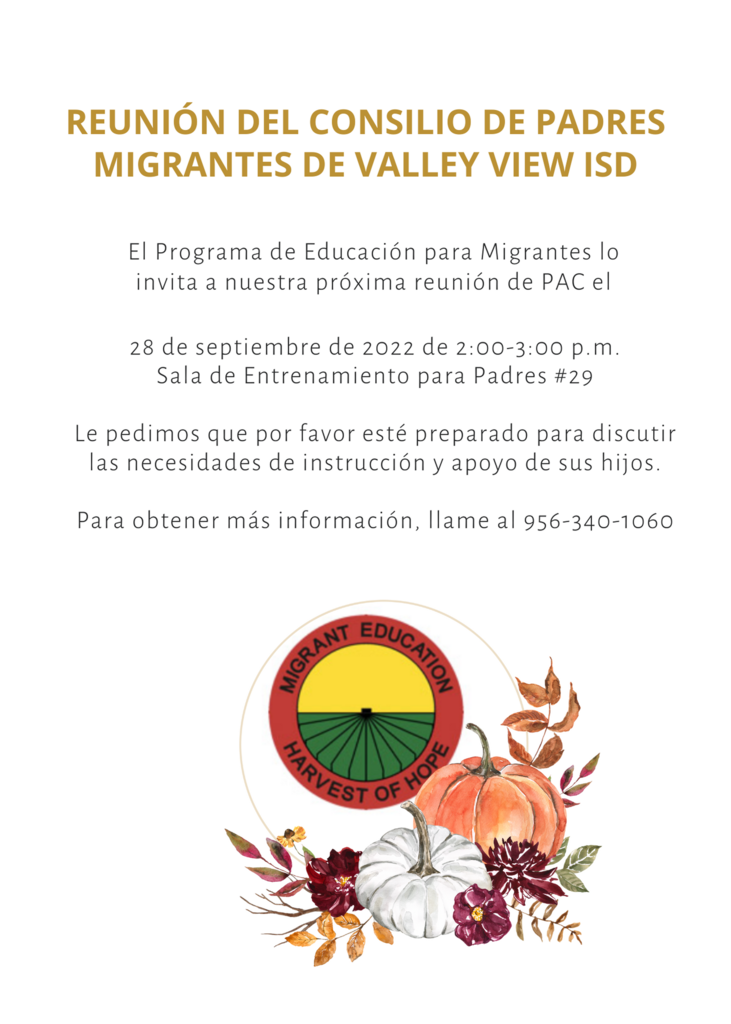 Please join us for our Title 1 Fall Parent Conference. We will have guest speakers on topics such as Emotional Wellness, Nutrition for Learning, Internet Safety, and Motivating Students to Learn. Our Fine Arts Academy students and Mariachi will also perform. Hope to see you there! Date: October 18th Time: 8:30-10:30 Place: Valley View Elementary Cafeteria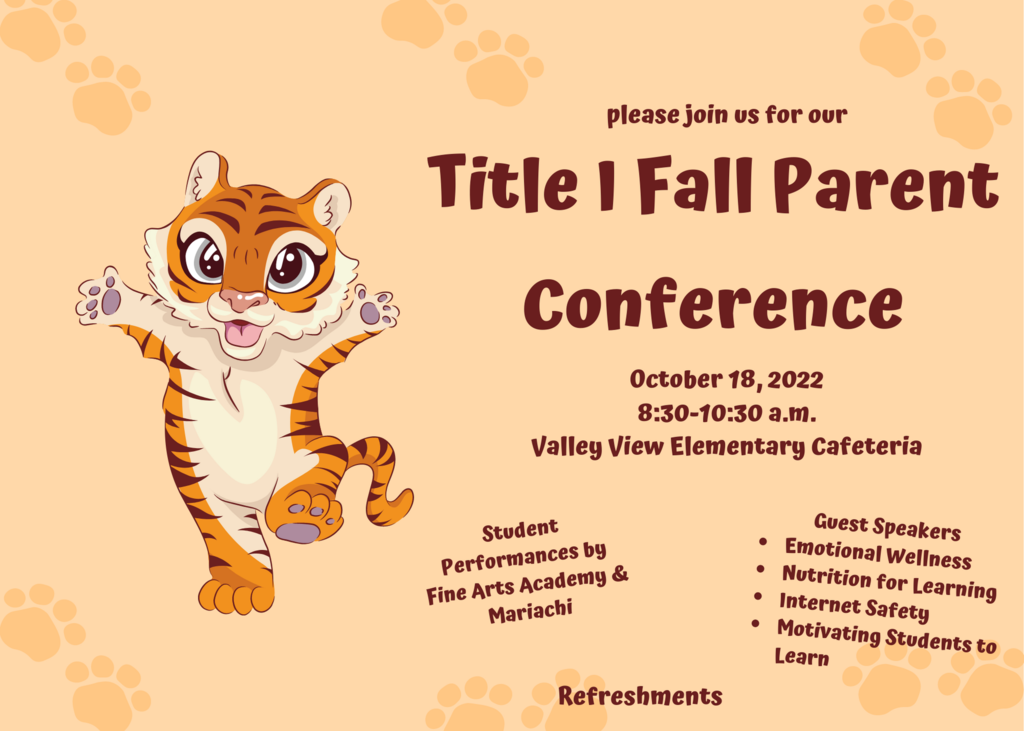 1st Place Winners!! A huge CONGRATULATIONS goes out to our Mighty Tiger Band Drumline and Soloists who competed on Saturday, September 24, 2022, at the Drumline Competition in Roma, TX!! We are extremely proud of your accomplishment. Go Tigers!!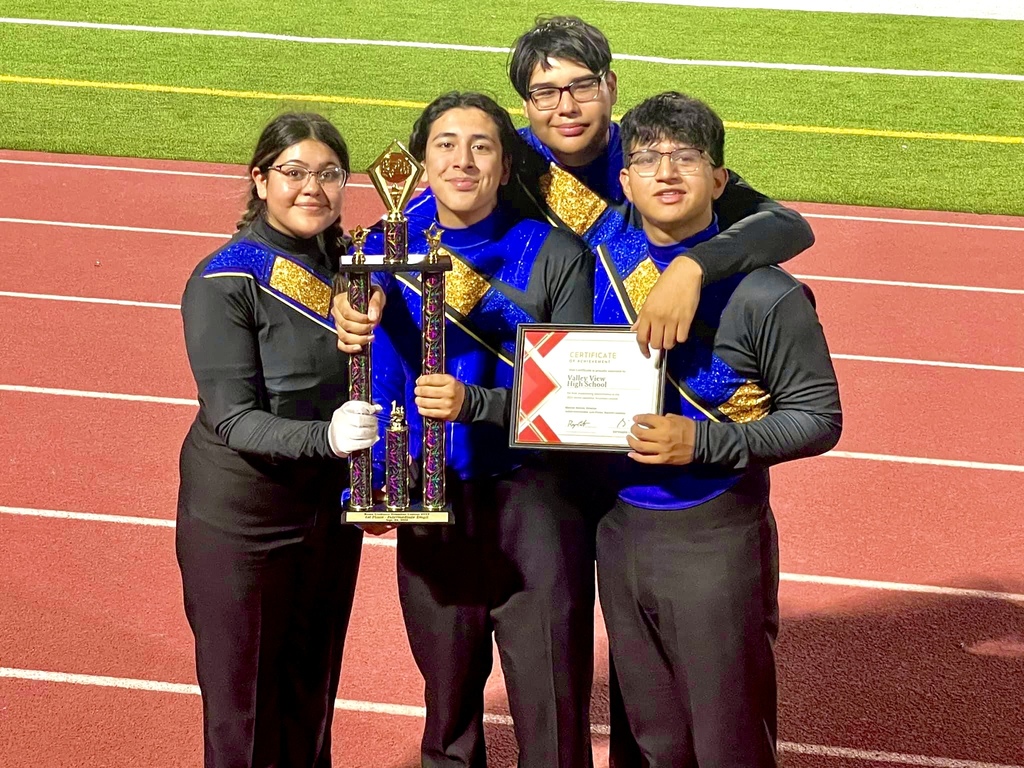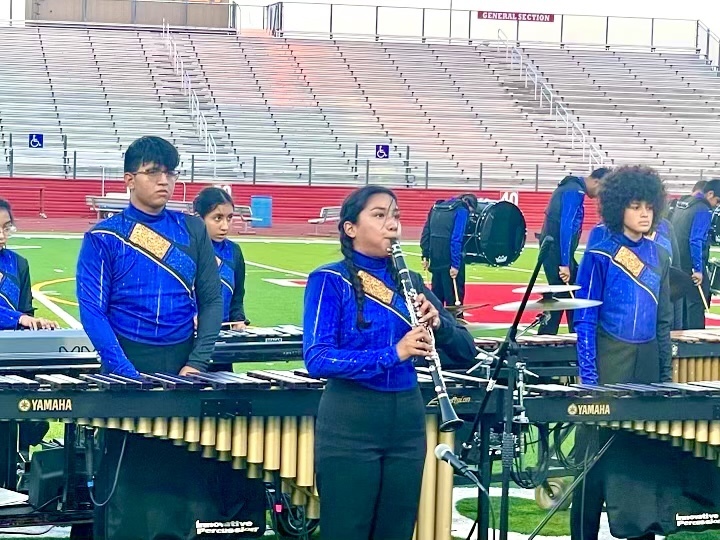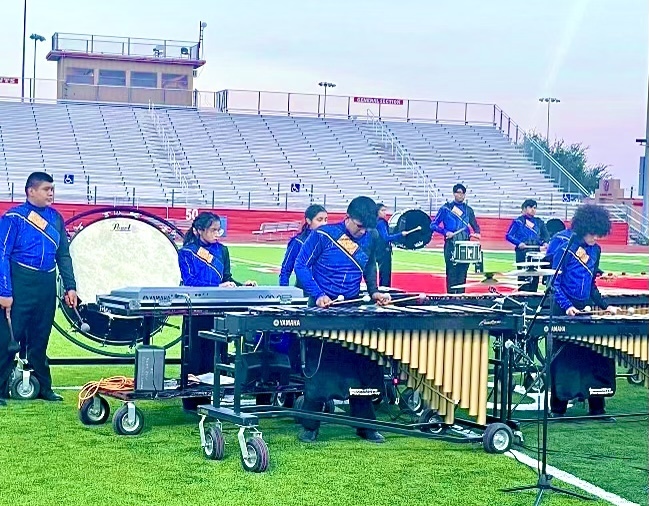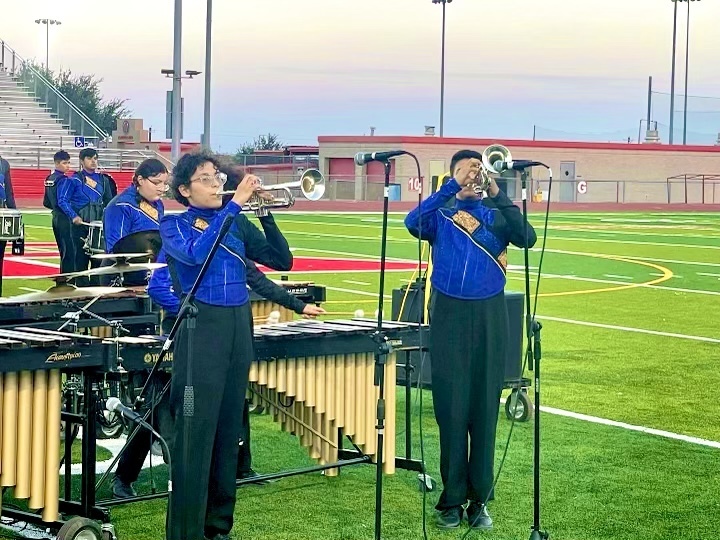 Did you know Valley View ISD has a Migrant Program for students? ¿Sabias que Valley View ISD tiene un programa de Migrantes para estudiantes?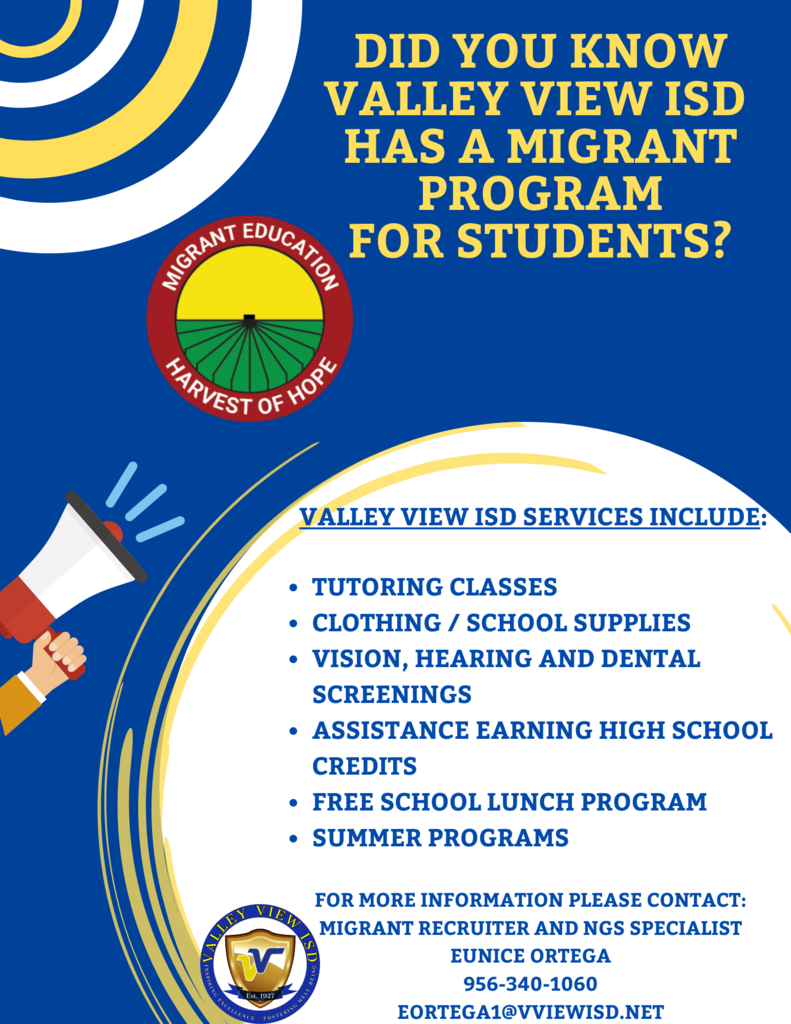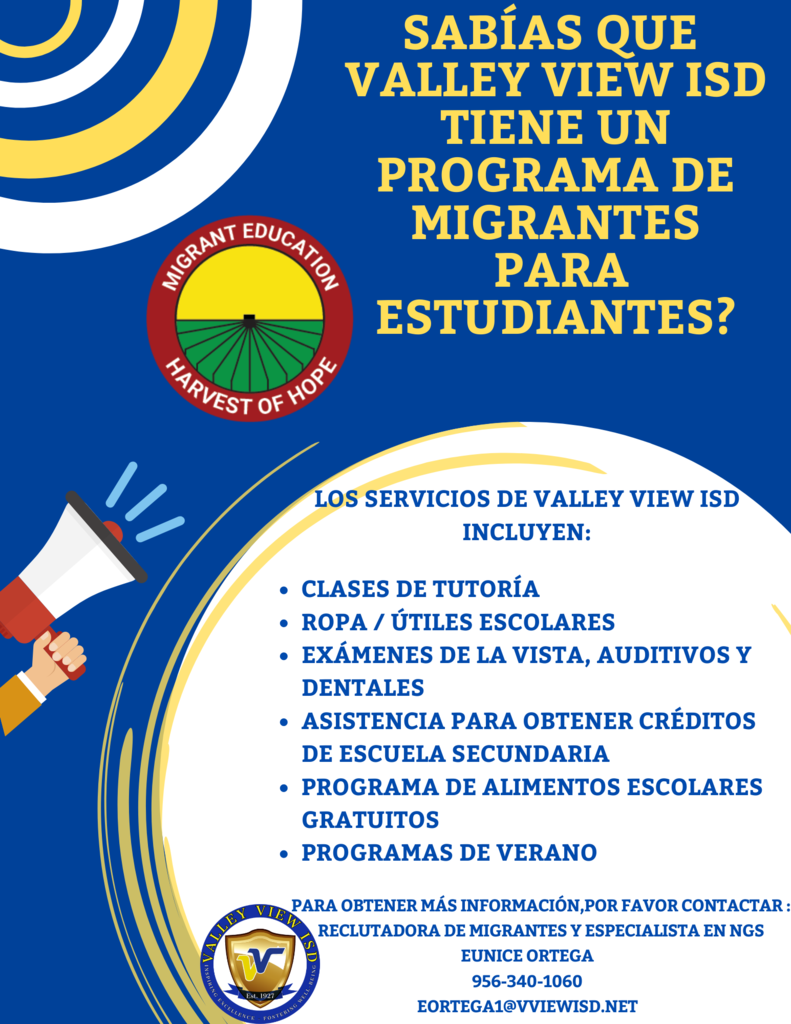 Join us for FREE parent classes. We offer Baking, Sewing, Arts & Crafts, and ESL. For more information call us at 340-1050. GRATIS para padres. Ofrecemos classes de reposteria, costura, artes, manualidades, y inglés.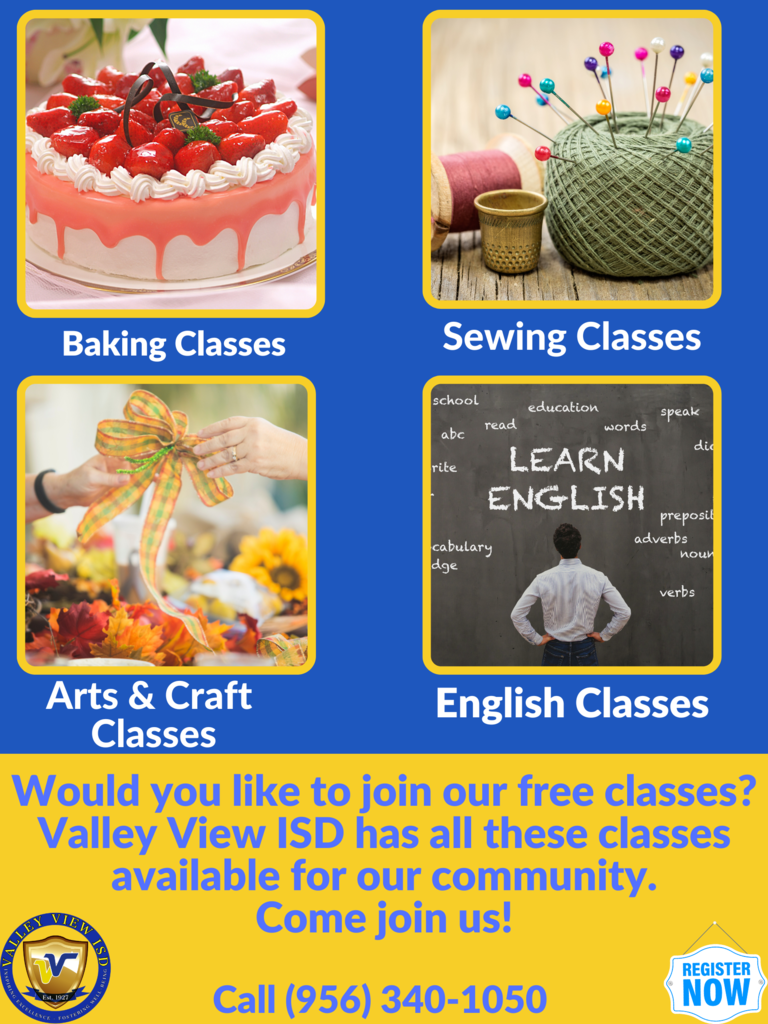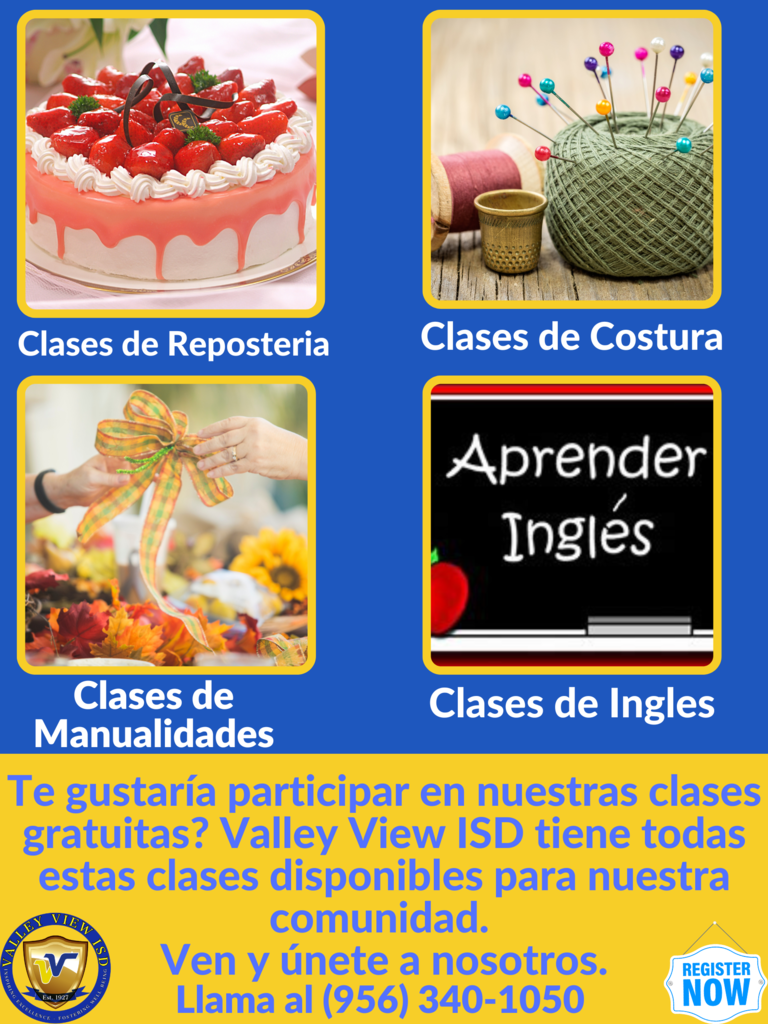 Valley View ISD is offering ESL classes during the day for our community members. Clases de Ingles! durante el dia para todos miembros de nuestra communidad.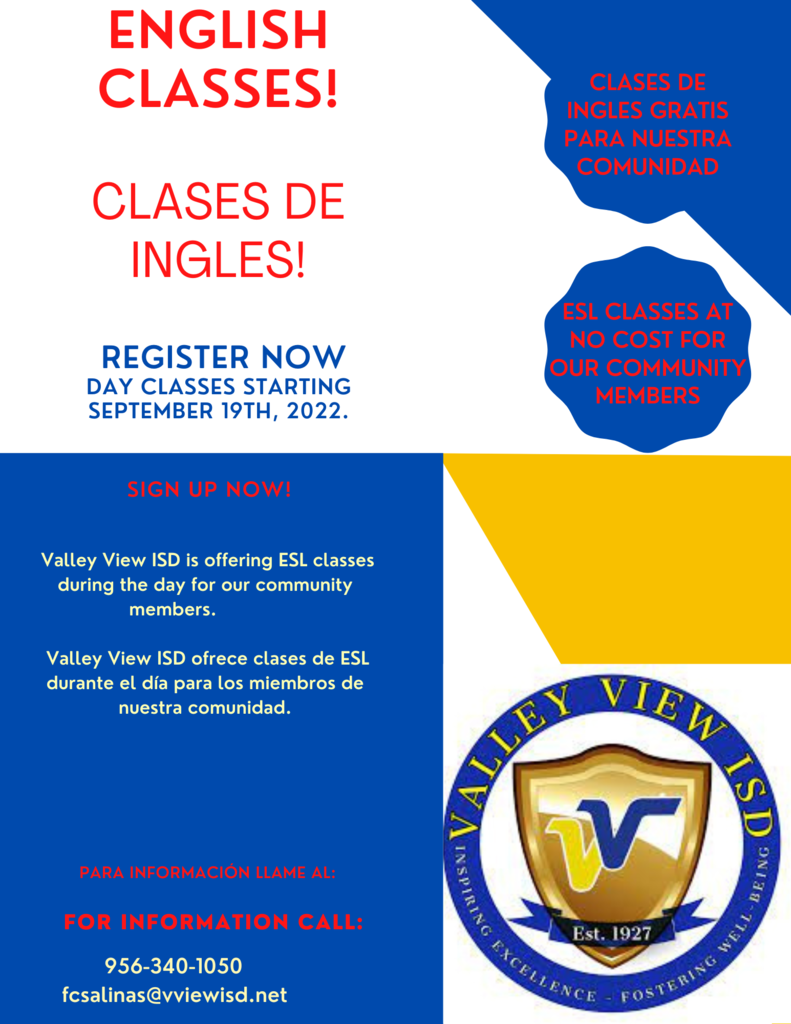 Join us for the Title I fall parent conference!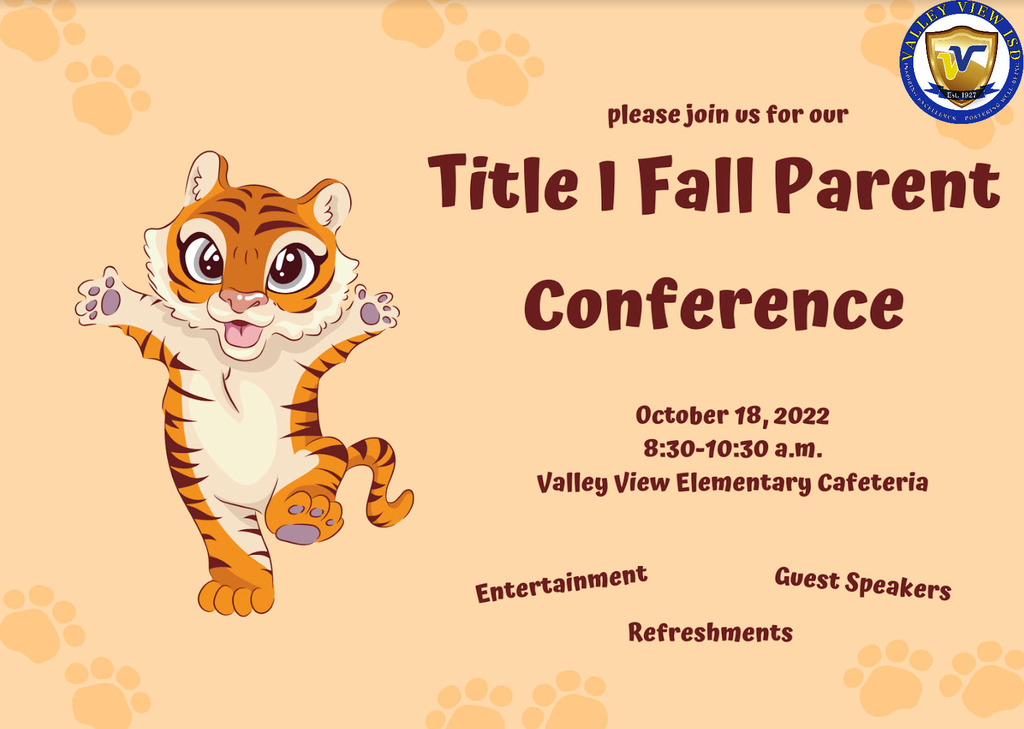 Valley View ISD is offering adult GED classes to our community members. Enroll Now!!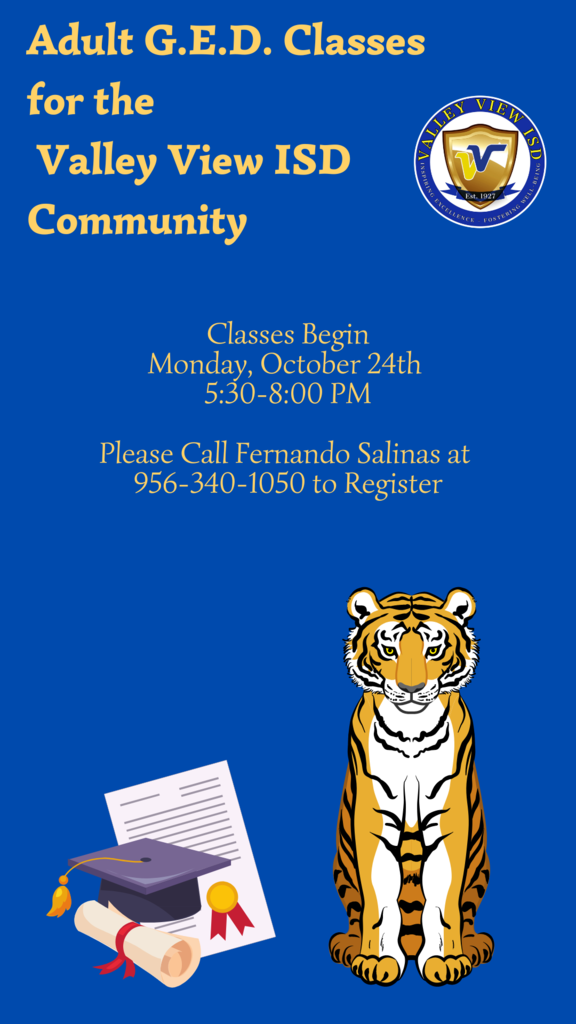 Valley View ISD is offering Nutrition classes on Thursdays for our community members. Valley View ISD ofrece clases de Nutricion todos los jueves para miembros de nuestra comunidad.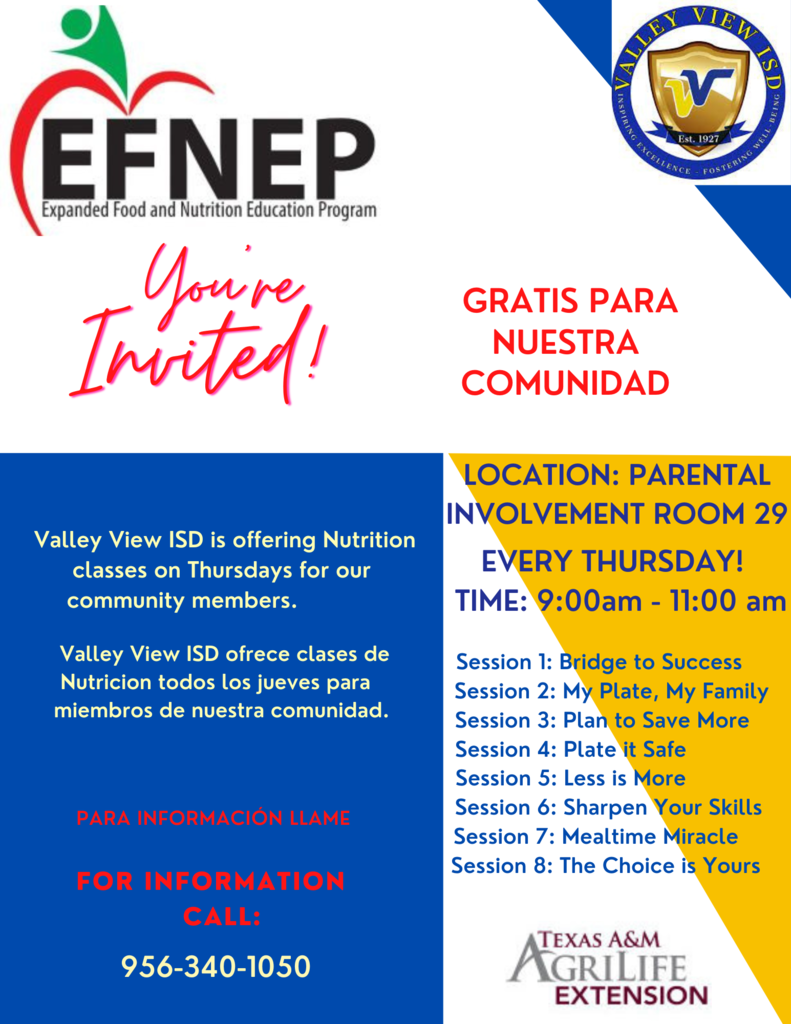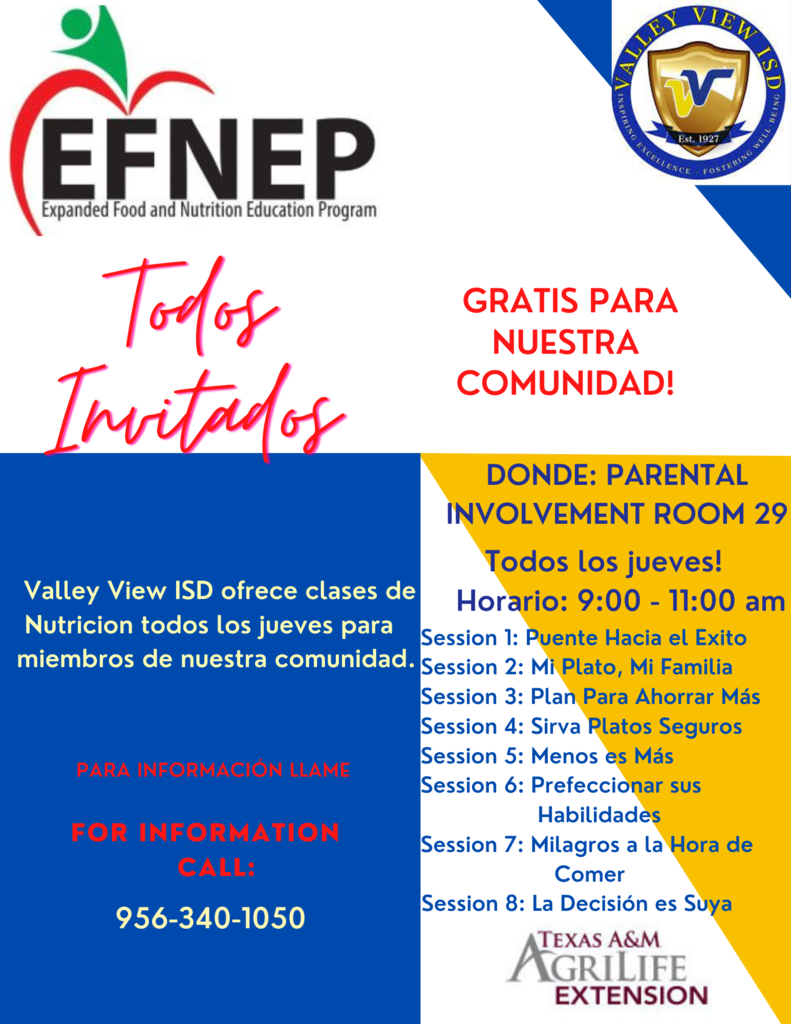 ValleyView ISD: Town Hall MeetingThursday, September 15 Jueves, 15 de Septiembre Staff Development Center/ Cafeteria de 5o Grado Asamblea Pública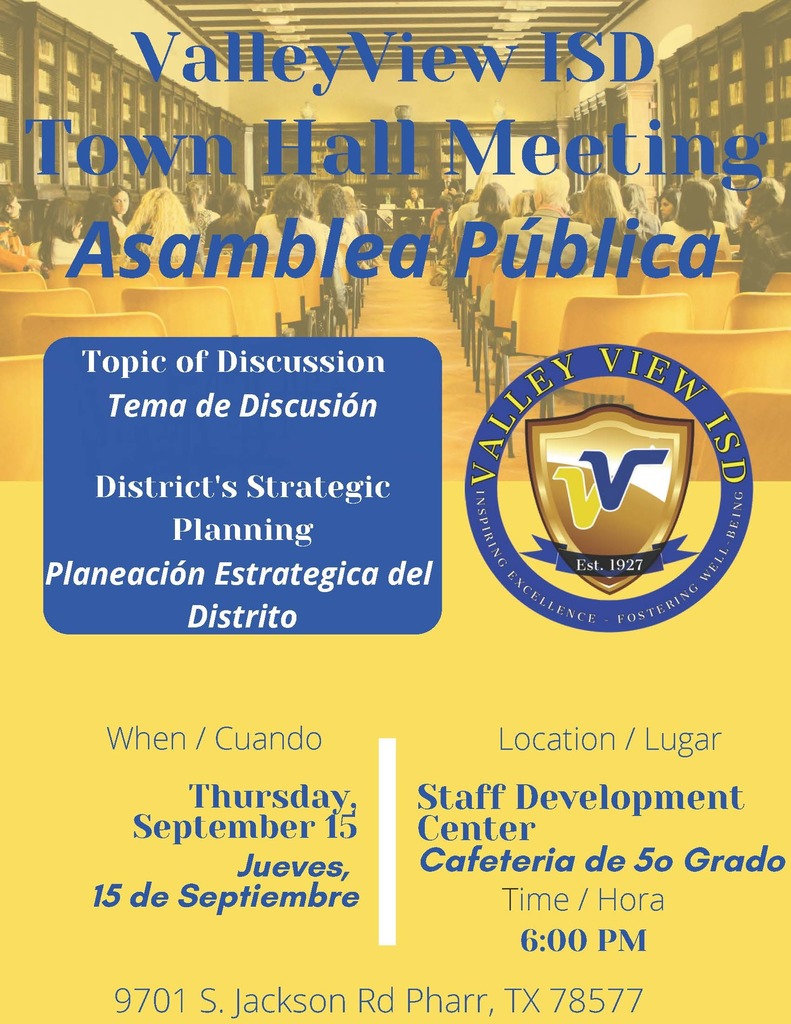 Valley View ISD has partnered with Region I to offer GED preparation classes at NO COST for our community. For information call 956-340-1050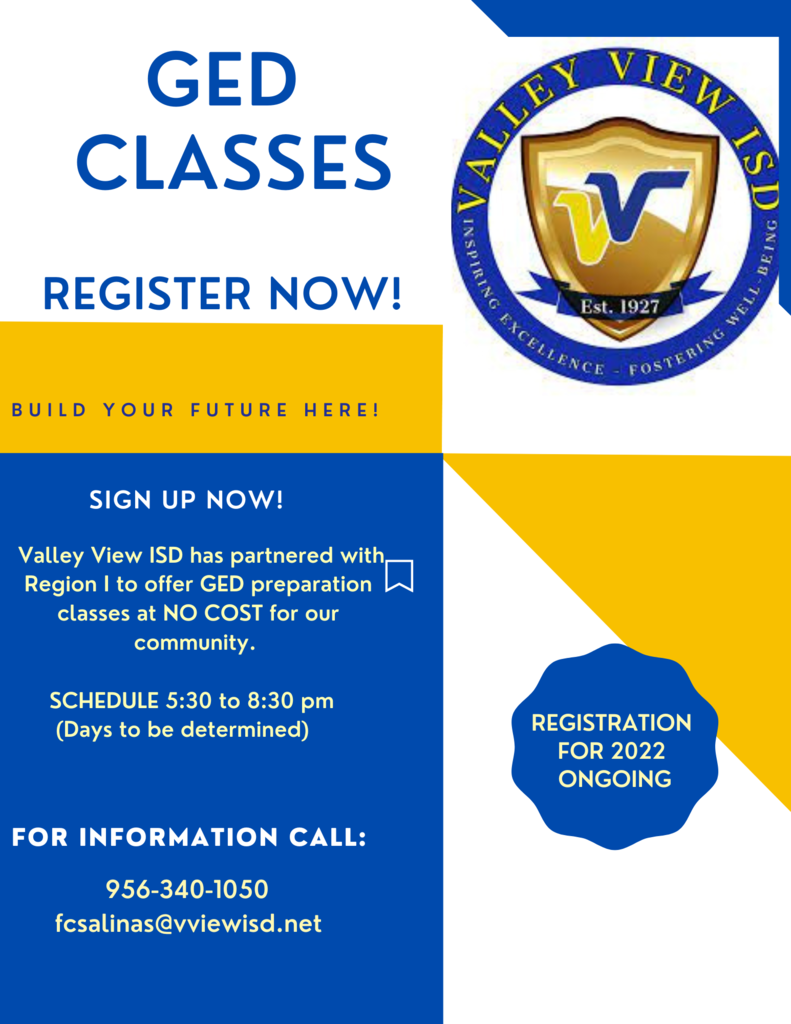 Reminder Valley View ISD parents and students: Schools are open tomorrow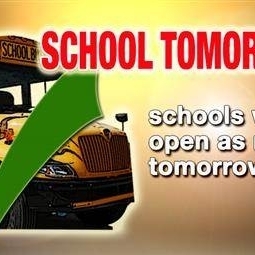 Valley View ISD stands with the Uvalde CISD community. We invite our Valley View ISD community to wear maroon on Tuesday, September 6, 2022, as @Uvalde CISD returns for their first day of school. #uvaldestrong #vviewisd