PK/K Camps & Meet the Teacher Night / Noche De Conocer a los Maestros.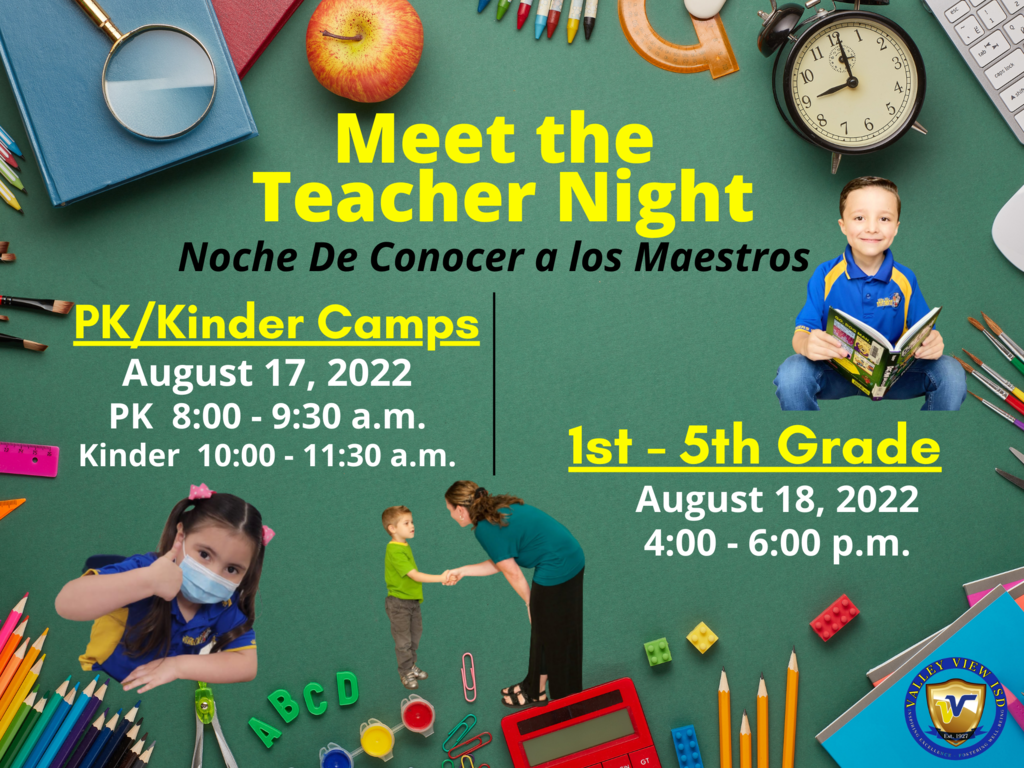 Town Hall Meeting!! Asamblea Publica School Safety/Seguridad de Escuelas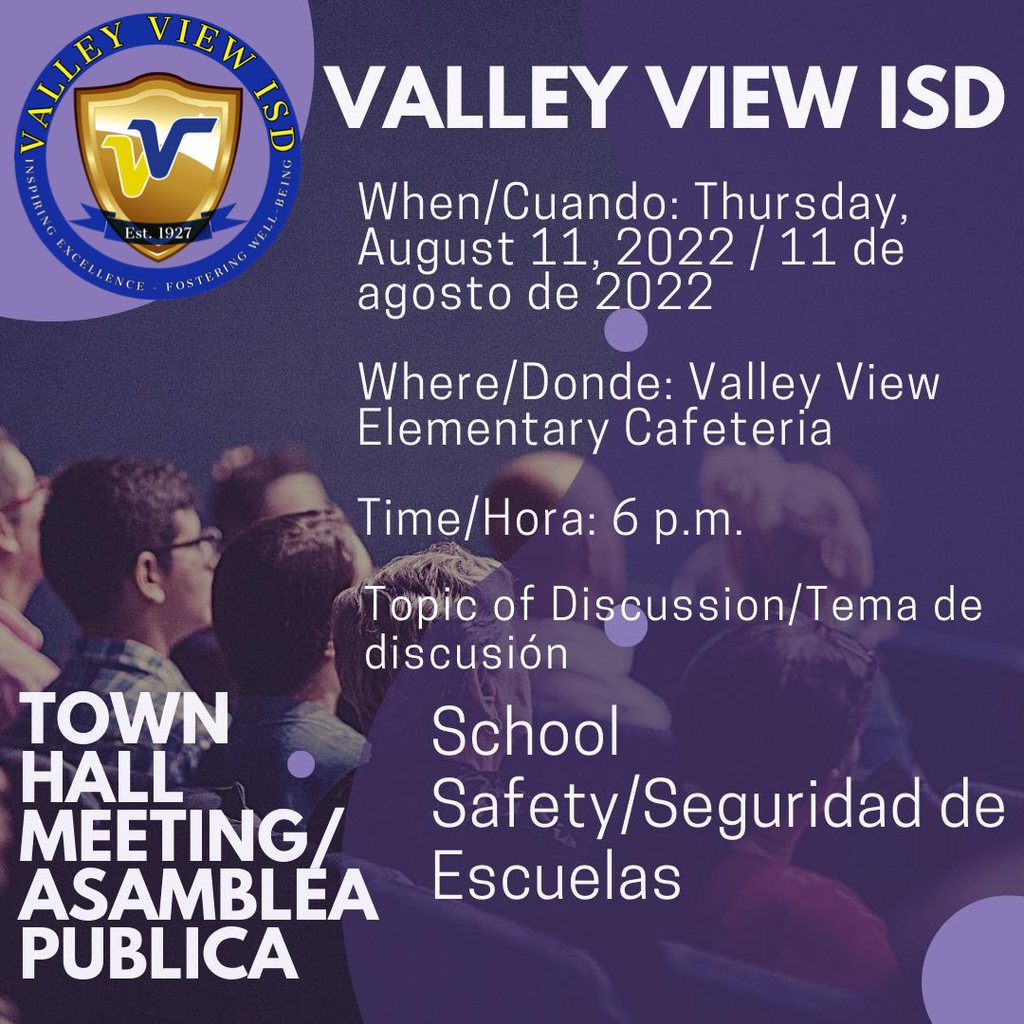 Come Roar With Us at Valley View ISD!! Visit us at
www.vviewisd.net
to find out more about all of the wonderful programs we have to offer!! Want to become a roaring tiger, we invite you to come and find out how!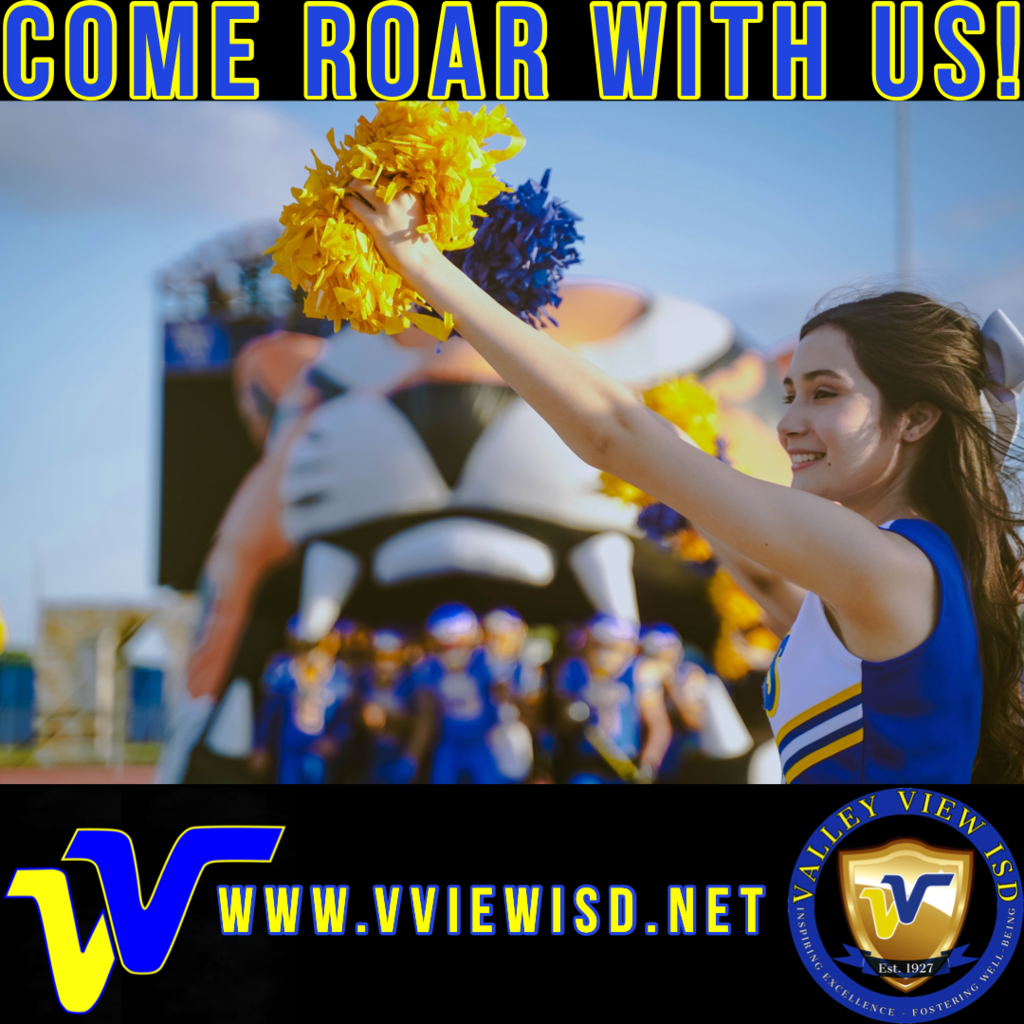 Valley View ISD invites you to enroll your children in our All-Day PK 3 and 4 Program where everybody qualifies!! ¡Valley View ISD lo invita a inscribir a sus hijos en nuestro programa de todo el día PK 3 y 4 donde todos califican!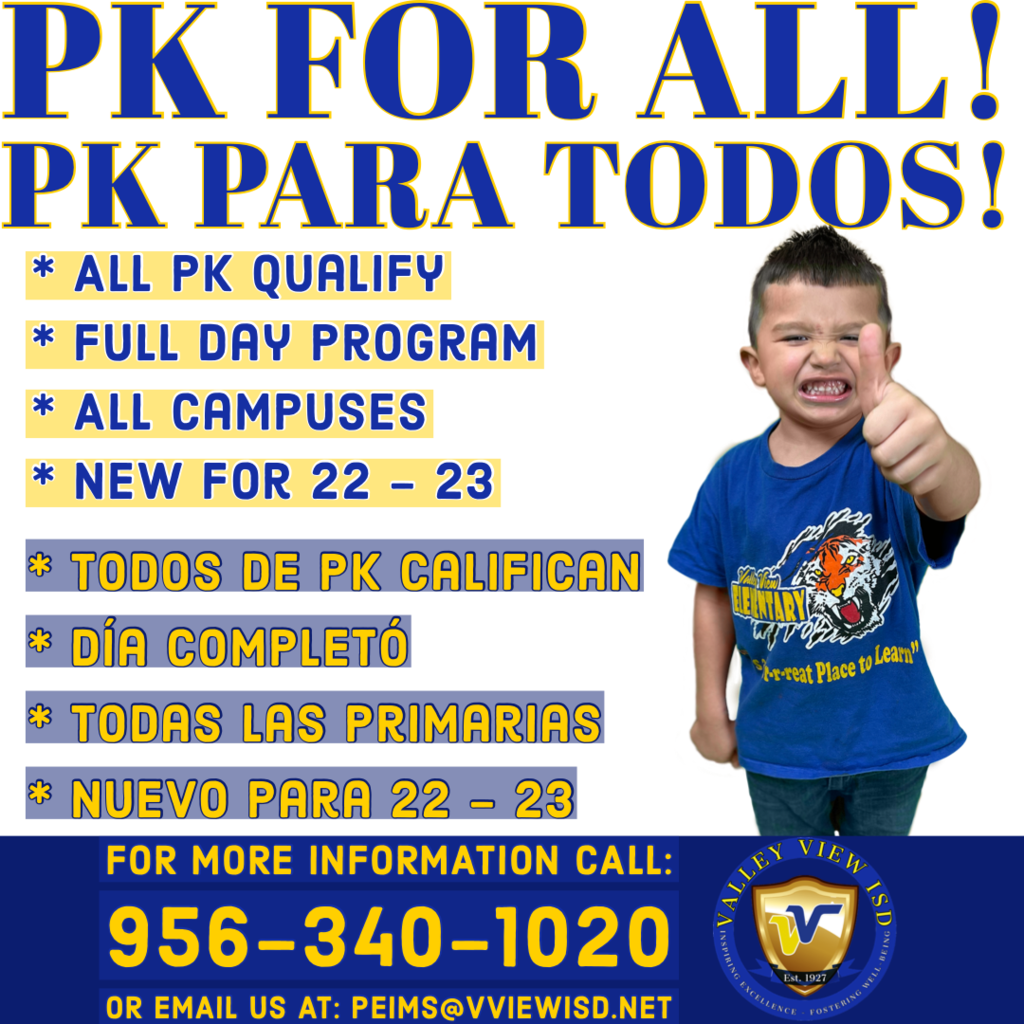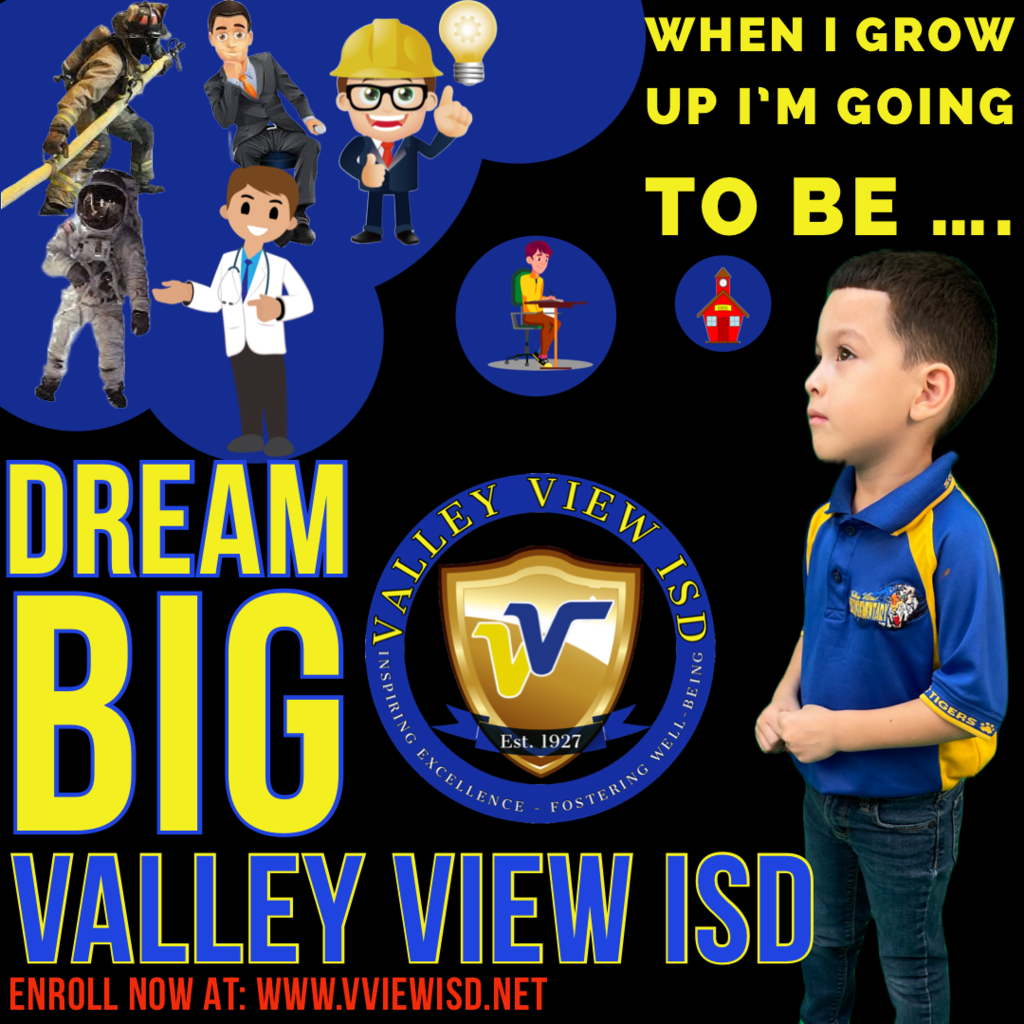 Valley View ISD will serve summer meals to students and community kids 18 and under at no cost. Servira comidas de verano a los estudiantes y niños de la communidad 18 años y menores a ningun costo. Location: Valley View High School From July 18, 2022 to August 19, 2022 julio 18, 2022 a agosto 19, 2022.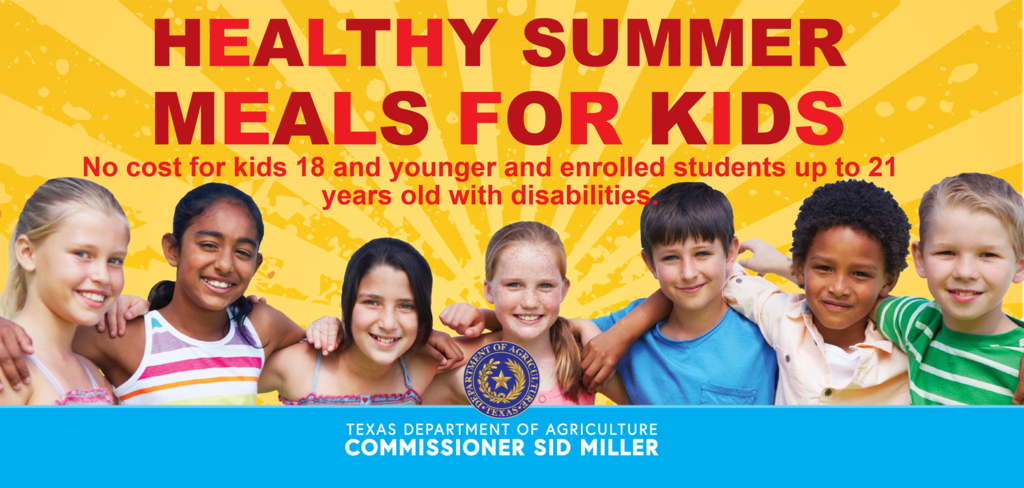 Summer Break!, Valley View ISD district offices will be closed from June 27 - to July 15, 2022. ¡¡Vacaciones de verano!! Las oficinas del distrito estarán cerradas del 27 de junio al 15 de julio de 2022.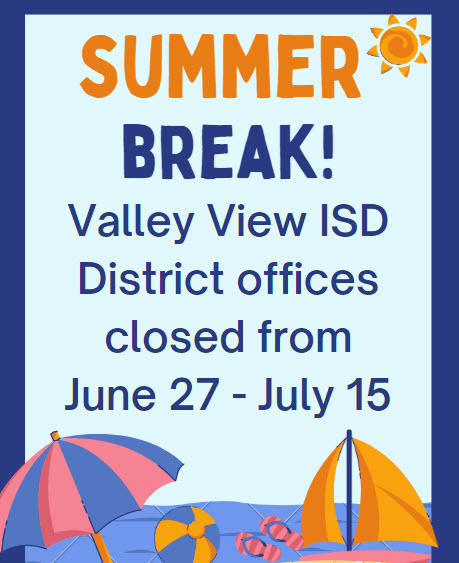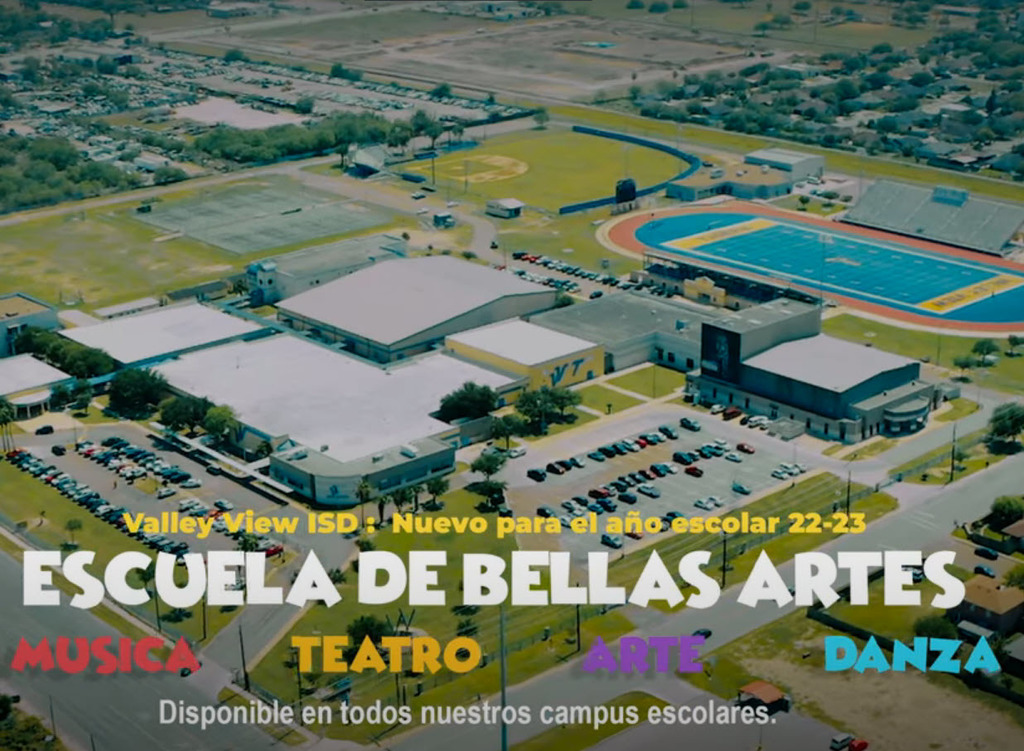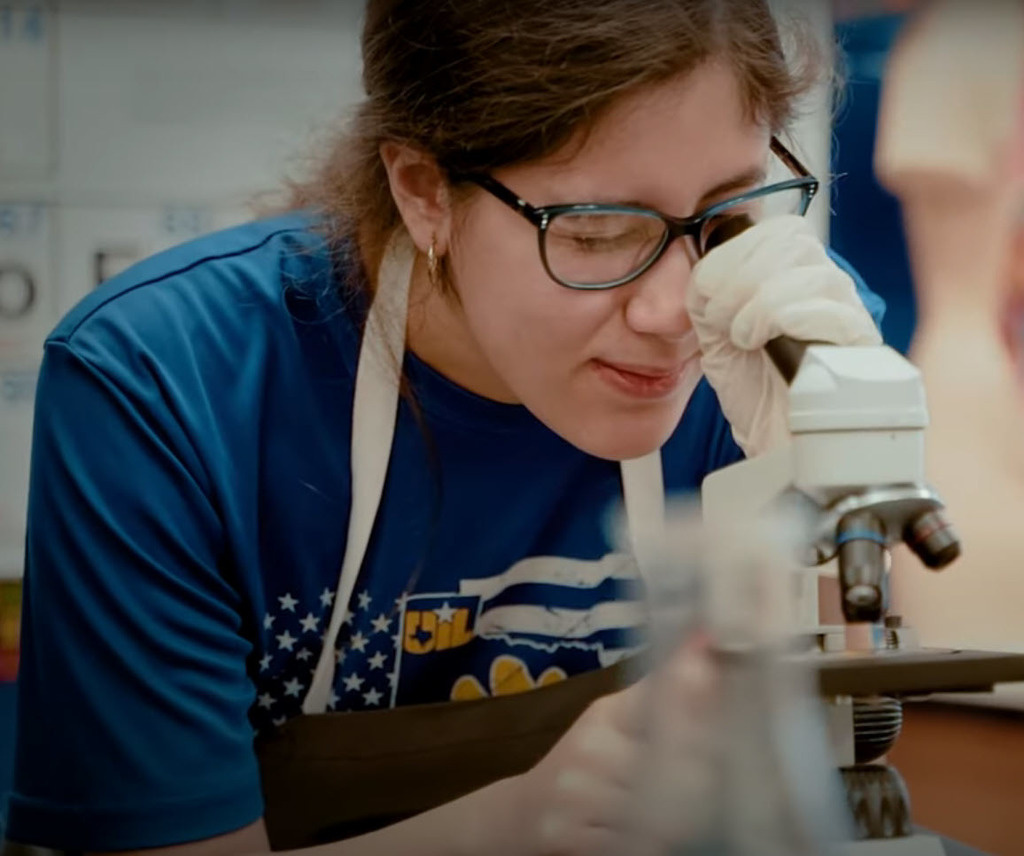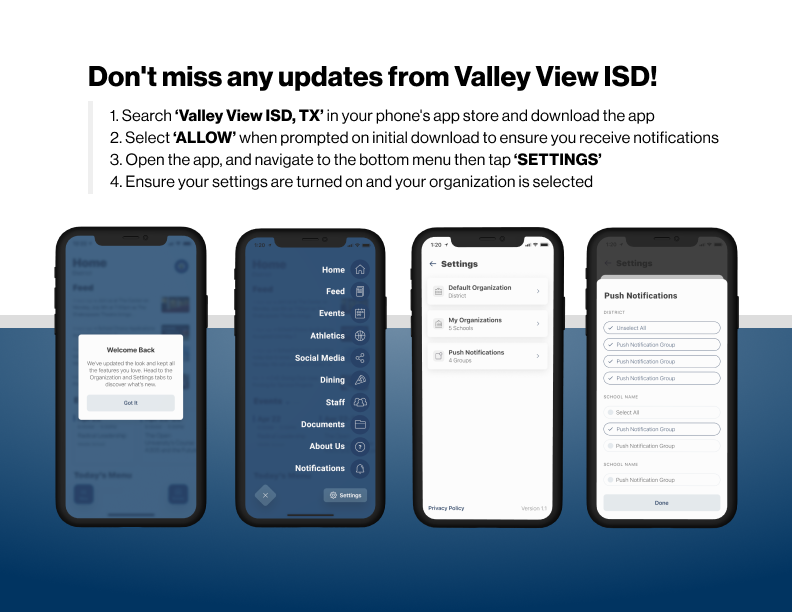 FREE SCHOOL SUPPLIES FOR THE 2022-2023 SCHOOL YEAR!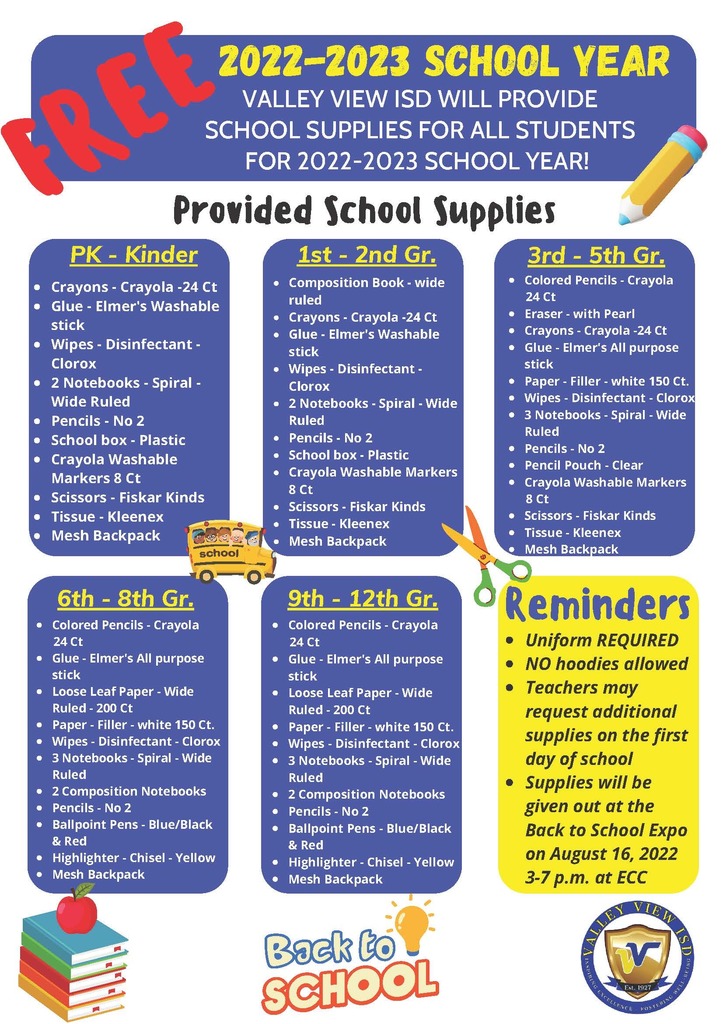 A message from Superintendent on School Safety! ¡Un mensaje de la Superintendente de Seguridad Escolar!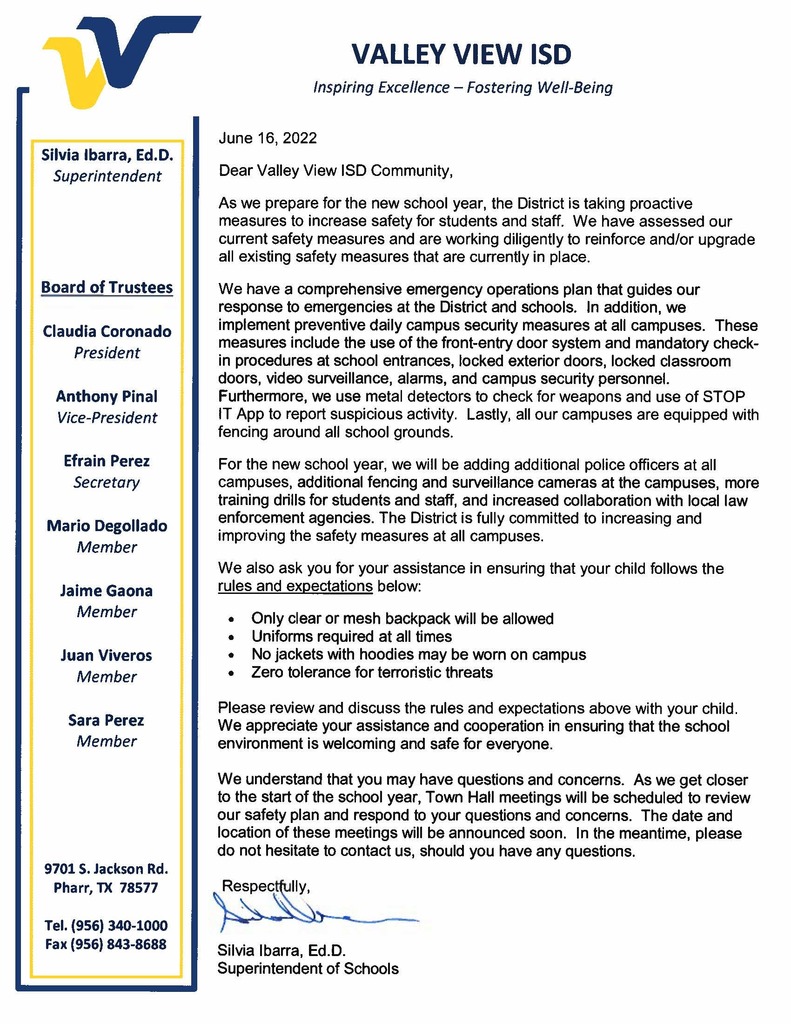 Looking for competitive pay in the education workplace? Are you looking to be part of a great collaborative team? Do you want to belong in a work-family atmosphere that receives amazing health and pay benefits? Well, look no further than Valley View ISD!! Apply with us today!!
https://vviewisd.tedk12.com/hire/index.aspx
#pharr #Hidalgo #mcallen #edinburgtx #missiontx #sanjuantx #rgv #rgv956 #956rgv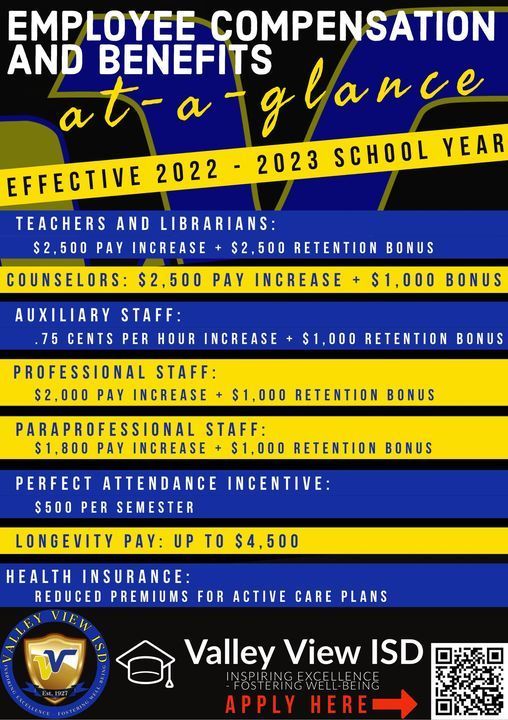 2022-2023 ESSA Consolidated Federal Grant Application--Public Notice Valley View Independent School District is seeking public input on the use of federal funds before submitting federal grant applications for the 2022-2023 school year. When: 6/9/2022, 9:00 AM – 10:30 AM and 6:00 PM – 7:30 PM Where: VV Staff Development Center 9701 South Jackson Rd. Pharr, TX 78577 El Distrito Escolar Independiente de Valley View lo invita a que contribuya con su(s) opinions acerca del uso de fondos federales antes de enviar la solicitud de fondos federales para el año escolar 2022-2023. Fecha: 6/9/2022, 9:00 AM – 10:30 AM and 6:00 PM – 7:30 PM Lugar: VV Staff Development Center 9701 South Jackson Rd. Pharr, TX 78577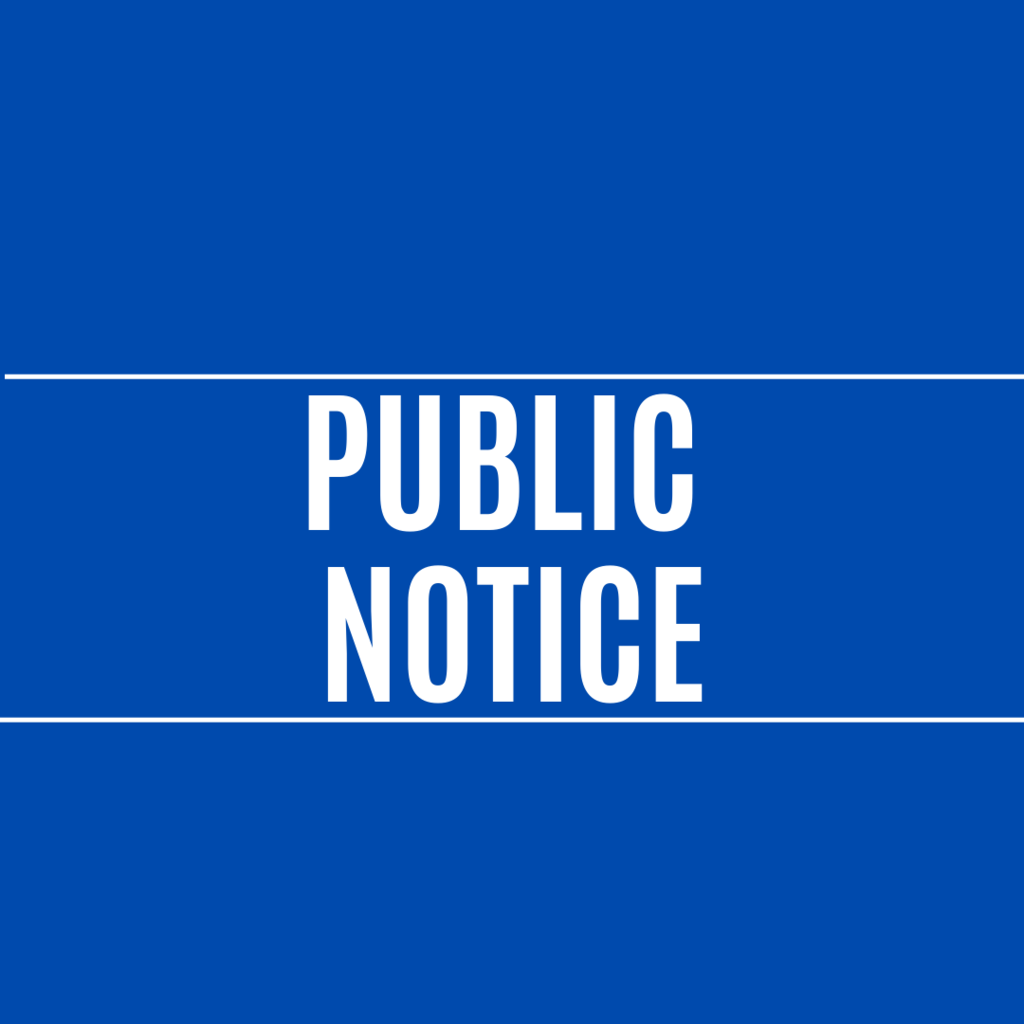 FREE COVID-19 VACCINE CLINIC/ CLINICA DE VACUNAS CONTRA EL COVID-19 June 10, 2022, 1 to 5 p.m. 5th Grade Campus Gymnasium 10 de Junio, 2022, 1 a 5 p.m. Gimnasio del plantel de 5to grado 9701 S. Jackson RD., Pharr, TX 78577 Or Register Online:
http://hipaa.jotform.com/popularrx/valleyviewfightscovid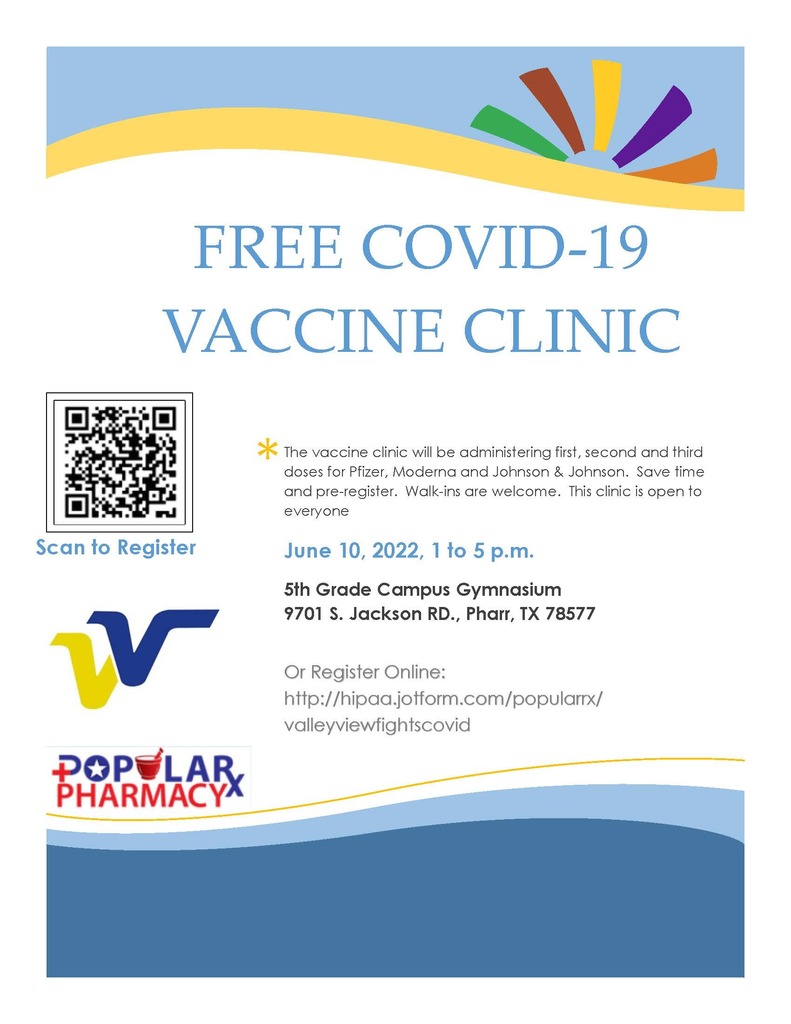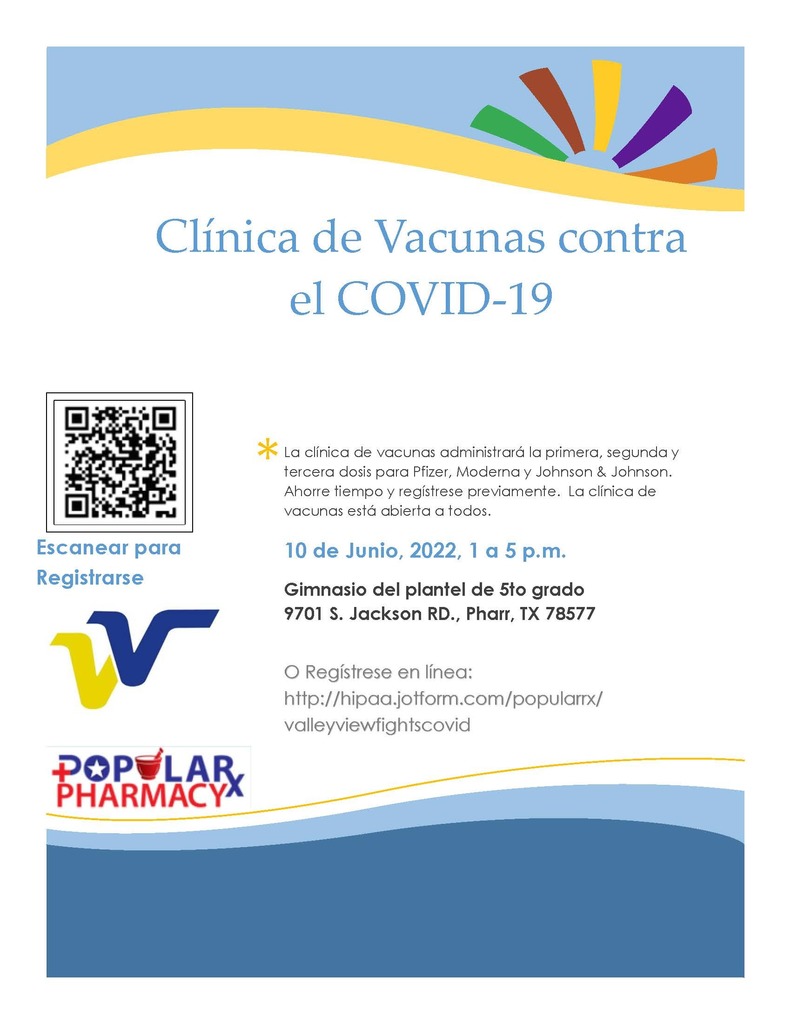 Congratulations to Eliamar Gomez of Valley View ISD for being selected as an ATPE Charles Pickitt Educator of the Year awards finalist for 2021-22 in the Special Services category. This is a tremendous accomplishment as there were many ATPE member educators that applied for this prestigious award. Interviews were conducted virtually on April 9 and winners in each category will be announced at the ATPE Summit on July 6, 2022 at the Welcome Reception/Awards Recognition event, 6:30 – 8:30 PM. Please help us in sending a big congratulations to Eliamar for being one of the final three nominees! The winner in each of the five categories will receive a $5,000 award.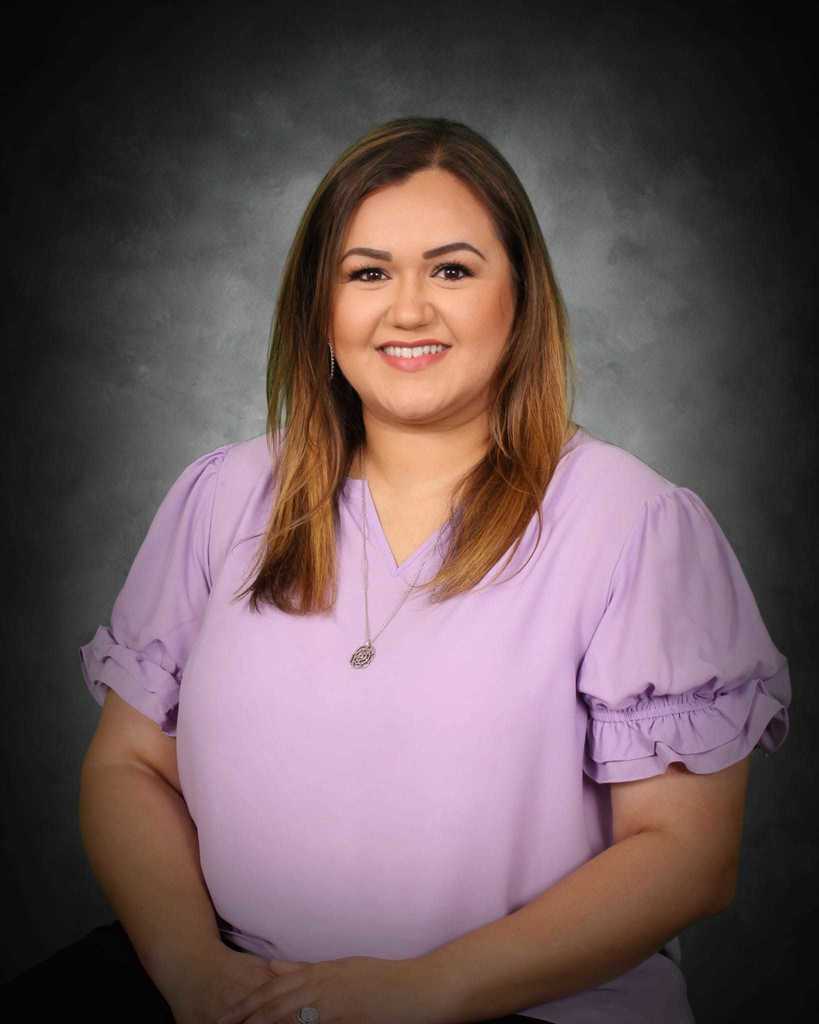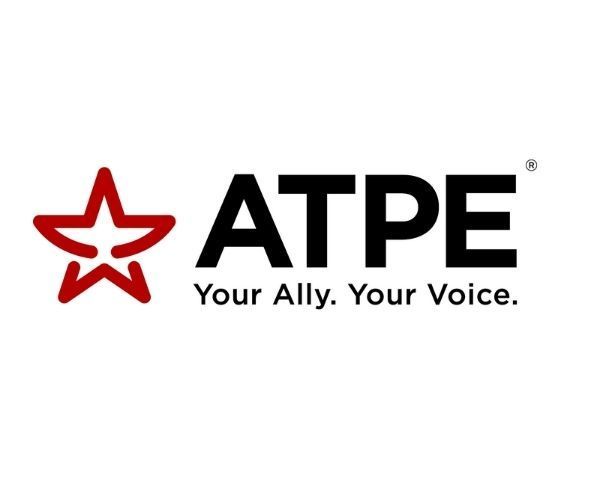 VVIEW ISD INCREASING OUR SAFETY AND SECURITY MEASURES AT ALL CAMPUSES As the school year comes to a close and in light of the recent tragedy in Uvalde, TX, we are increasing our safety and security measures at all campuses. Please know that our schools are safe and we have not received threats of any kind. The District is simply taking proactive measures to ensure the safety of our students and staff. Message from Valley View ISD_5-26-22 (English and Spanish). Click below.
https://5il.co/1b5lw

Valley View ISD Summer Meals May 31 to June 24, 2022 Valley View North, Valley View Early College Campus & Valley View High School Kids can go eat breakfast and lunch from 8:00 AM to 1:30 PM Monday to Friday.

NATIONAL POLICE WEEK! National Police Week is a collaborative effort of many organizations dedicated to honoring America's law enforcement community. We thank and support our police officers and security guards for dedicating themselves to protecting and serving our community.

Luis Garcia of Valley View ISD, Valley View Elementary, was selected as an ATPE Charles Pickitt Educator of the Year awards finalist for 2021-22 in the Elementary category. A big congratulations to Luis for being one of the final three nominees!